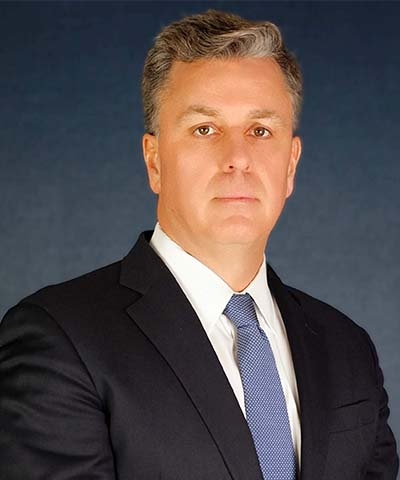 Vincent Giblin is an Equity Partner at DeCotiis and brings over 20 years of legal experience to the firm.
An expert trial attorney, Mr. Giblin regularly appears as trial counsel in state and federal courts. His background includes handling complex federal litigation, white collar criminal defense and compliance matters for private corporate and not-for-profit organizations before civil and criminal government regulators, labor and employment matters, and complex ERISA benefit litigation.
Mr. Giblin regularly handles union and trust fund matters, complex commercial litigation, and white collar criminal defense and compliance issues. He also has extensive trial experience and regularly appears as counsel in the State and Federal courts. Mr. Giblin has handled class action lawsuits, trade secret litigation, First Amendment Constitutional matters, international business torts, minority shareholder actions and bankruptcy-related litigation. Mr. Giblin currently serves as the outside general counsel for the International Union of Operating Engineers representing over 450,000 members nationally.
Prior to beginning his private legal career, Mr. Giblin previously served as an Assistant U.S. Attorney in the District of New Jersey. For his efforts at the U.S. Attorney's Office, Mr. Giblin received special recognition from the U.S. Secret Service, U.S. Postal Inspection Service and the Federal Bureau of Investigation. He was also bestowed with the 2002 Administrator's Award, one of the highest honors by the U.S. Drug Enforcement Administration, for his outstanding achievement in law enforcement.
Trials that Mr. Giblin participated in include: United States v. Robert Kosch and Ravidath Ragbir, a wire fraud conspiracy involving $1 million in fraudulent mortgage proceeds; United States v. Luis Cruz, a gang-related crack cocaine conspiracy; and Walsh v. Walsh, a minority shareholder action involving complex corporate governance issues, executive compensation issues and the valuation of multiple related entities.
Mr. Giblin was a member of the Rutgers Intercollegiate Lacrosse Team. Following his graduation from Seton Hall University School of Law, he served as a law clerk for the Hon. Clarkson S. Fisher, U.S.D.J. for the U.S. District Court of the District of New Jersey.
Seton Hall University School of Law, Newark, New Jersey
Rutgers College
New Jersey, 1996
U.S. District Court District of New Jersey
U.S. District Court Southern District of New York
District of Columbia, 2004
U.S. Court of Appeals 3rd Circuit
Complex Federal Litigation
White Collar Criminal Defense
Compliance Issues
Labor & Employment
Complex ERISA Benefit Litigation
United States v. Robert Kosch and Ravidath Ragbir
United States v. Luis Cruz
Walsh v. Walsh
Kroll Heineman & Giblin, LLC, Member
District of New Jersey, Assistant U.S. Attorney
Hon. Clarkson S. Fisher, U.S.D.J, for the U.S. District Court for the District of New Jersey, Law Clerk
U.S. Drug Enforcement Administration's 2001 Newark deployment, Lead Assistant U.S. Attorney
Hon. Nicholas H. Politan, U.S.D.J., U.S. District Court for the District of New Jersey, Judicial Intern/Research Assistant
Administrator's Award, 2002
Professional Associations
New York State Bar Association, Member
New Jersey State Bar Association, Member
Southern District of New York State Bar, Member
District of Columbia Bar Association, Member