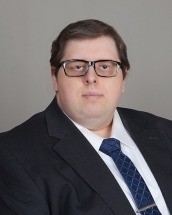 Anthony M. Ladouce is an Associate at DeCotiis.

Prior to joining DeCotiis, Mr. Ladouce served as a judicial law clerk to the Honorable Jonathan A. Orsen, J.T.C. in the New Jersey Tax Court. During his clerkship, Mr. Ladouce drafted opinions and orders on sales, business, and property tax matters; mediated cases for the New Jersey Superior Court, Law Division, Special Civil Part; and edited opinions for publication.
Mr. Ladouce received his J.D. from Seton Hall Law in 2019. While studying, he served as an intern for the New Jersey Office of the Attorney General, Division of Law, Public Utilities Section, where he reviewed potential regulatory changes to expand the use of microgrids and clarify the issuance of renewable energy credits. Mr. Ladouce also served as a judicial intern for the Honorable Joseph M. Andresini, P.J.T.C. in the New Jersey Tax Court, where he prepared briefs regarding state and local tax issues for several judges. Finally, Mr. Ladouce served as an extern for the Internal Revenue Service, Office of Chief Counsel, where he researched novel and complex issues of federal taxation.
Prior to and during law school, Mr. Ladouce ran his own technical consulting and web development business, which he started in 2010.
Seton Hall University School of Law, Newark, New Jersey

J.D. - 2019
Honors: Senior Associate Editor, Seton Hall Circuit Review

University of Rochester, Simon Business School, Rochester, New York

M.S. - 2016
Major: Finance

University of Colorado, Colorado Springs, Colorado

B.S. - 2015
Honors: cum laude
Major: Business Administration