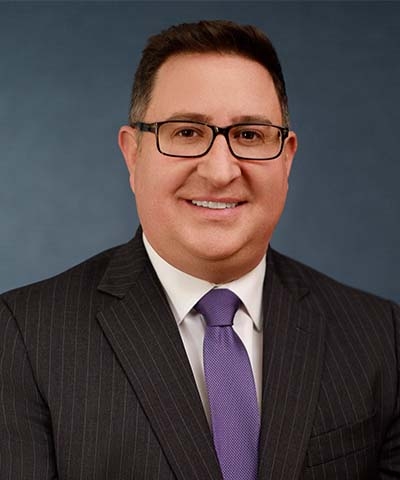 Paul J. Miller is a partner at DeCotiis. He is a member of the firm's Litigation practice group.
Paul represents clients in complex litigation matters. He has experience at both the trial and appellate levels. Paul represents individual and corporate clients and has defended an array of private and public entities, including large corporations, unions, state entities, municipal authorities, boards of education, and police officers. Paul also has extensive experience in medical malpractice litigation representing hospitals, physicians, nurses, surgical centers, dentists, and dialysis centers. Mr. Miller is also experienced in representing clients before the New Jersey State Board of Medical Examiners and in handling multi-district litigation involving failure to warn and product liability claims asserted against pharmaceutical companies and medical device Manufacturers.
Prior to joining DeCotiis, FitzPatrick, Cole & Giblin, Paul worked for a boutique medical malpractice firm for three years. He then spent five years honing his skills working at a large national law firm.
Paul is a 2001 graduate of The Pennsylvania State University, where he received a B.A. in Political Science. He received his J.D. from the George Washington University Law School in 2005. Following law school, he clerked for the Honorable David B. Rand, J.S.C. (ret.), in the Superior Court of New Jersey, Civil Division of Morris County.
From 2014 to 2019, Paul has been selected for inclusion in the Super Lawyers publication as a Rising Star, which recognizes New Jersey's outstanding young lawyers.
In his spare time, Paul is a volunteer firefighter in Morristown, New Jersey. He has been a firefighter since 1997 and is currently serving as Assistant Fire Chief.
George Washington University Law School, Washington, District of Columbia
Pennsylvania State University, Pennsylvania
New Jersey, 2005
New York, 2006
U.S. District Court District of New Jersey, 2008
U.S. Court of Appeals 3rd Circuit, 2016
United States Supreme Court, 2014
The Honorable David B. Rand, J.S.C., Superior Court of New Jersey , Morris County, Civil Division, Clerk, 2006 to 2007
Rising Star in the Personal Injury: Medical Malpractice Defense, Super Lawyers Magazine, 2014 - 2017