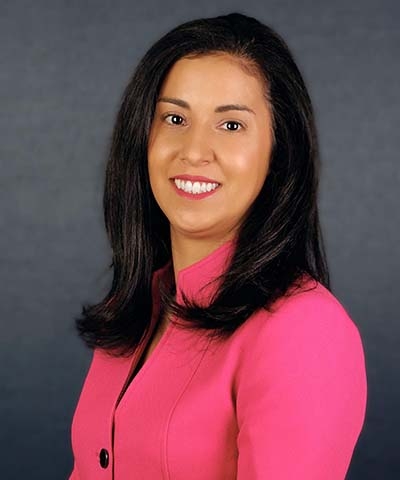 Arlene Quiñones Perez is an Equity Partner and the Director of Diversity & Inclusion at DeCotiis. She is a member of the Labor and Employment, Municipal, Education and Alternative Dispute Resolution practice groups.
Prior to joining the DeCotiis law firm, she served as General Counsel to the Northeast Regional Council of Carpenters ("NRCC"), which is a skilled trade organization that at the time represented carpenters in New Jersey, New York State and throughout the United States. Previously, Arlene served as an Associate with Kroll Heineman Carton, LLC, where she focused on labor law, municipal law, securities fraud, and election law. From 2011-2012, Arlene served as a Judicial Term Law Clerk for the Honorable Michael A. Shipp in the United States District Court for the District of New Jersey. From 2009-2010, Arlene served as a Judicial Term Law Clerk to the Honorable Lisa P. Thornton in the Superior Court for the State of New Jersey.
Arlene's extensive government and political experience includes her service as a Councilwoman in the Town of Clinton, New Jersey (where she was the youngest member of the municipality's governing body and the only Hispanic woman to serve as an elected official in Hunterdon County), a member of the Town of Clinton's Board of Adjustment and working as a confidential assistant to the Governor and Attorney General of the State of New Jersey.
Arlene served as Chair of the Judicial and Prosecutorial Committee ("JPAC") for the New Jersey State Bar Association from 2019 to 2020. She has also been at the forefront of the cannabis legal practice in New Jersey for over a decade and has been advocating for the expansion of medical marijuana and other legal reforms related to medical cannabis. Arlene also serves as the Treasurer for Latinas United for Political Empowerment ("LUPE"). Arlene has served as the Chair of the Hunterdon County Democratic Committee since 2013. From 2016 to 2017, Arlene served as the President of the Hispanic Bar Association of New Jersey where she served on the Board for over ten years. Arlene previously served as a member of the Supreme Court Committee on Women in the Judiciary and the Board of Directors for the Girls Scouts Heart of New Jersey. Arlene was featured in the Hispanic Executive Magazine, listed by PoliticsNJ on the 40 Under 40 Power List, as one of New Jersey's top 50 rising stars, and featured in the Star-Ledger as a Person of Interest. In 2009, Arlene received the National Association of Women Lawyers Award. While in law school, she completed a judicial externship with the Honorable Jose L. Linares in the United States District Court for the District of New Jersey.
Rutgers School of Law - Camden, Camden, New Jersey
Rutgers University
District of Columbia, 2019
U.S. District Court District of New Jersey, 2011
New York, 2010
New Jersey, 2009
Labor Law
Securities Fraud
Election Law
Municipal Law
Board of Directors for the Girls Scouts Heart of New Jersey
Northeast Regional Council of Carpenters, General Counsel
Kroll Heineman Carton, LLC, Associate
Honorable Michael A. Shipp, a United States District Judge, Judicial Term Law Clerk, 2011 to 2012
Murphy Orlando, LLC
Impact NJ, LLC, Registered Lobbyist
Town of Clinton, New Jersey, Councilwoman
Honorable Jose L. Linares, a United States District Judge, Judicial Externship
Appellate Division of the Monmouth County Prosecutor's Office, Law Clerk
Honorable Lisa P. Thornton in the Superior Court of New Jersey, Judicial Term Law Clerk
New Jersey's Top 50 Rising Stars, PoliticsNJ on the 40 Under 40 Power List
Person of Interest, Star-Ledger
National Association of Women Lawyers Award, 2009
Adjunct Professor, New Jersey City University
Professional Associations
Hispanic Bar Association - New Jersey, Member, 2007 to Present
New Jersey State Bar Association, Member, 2007 to Present
Latinas United for Political Empowerment, Member, 2010 to Present
Latino Action Network, Board Member, 2016 to Present
New Jersey Supreme Court Committee on Women in the Judiciary, 2010 to 2014
Girl Scouts of Heart of New Jersey Board of Directors, 2010 to 2012
Town of Clinton, Councilwoman, 2006 to 2007
Clinton Emergency Services Foundation, President & Founder, 2006 to 2008