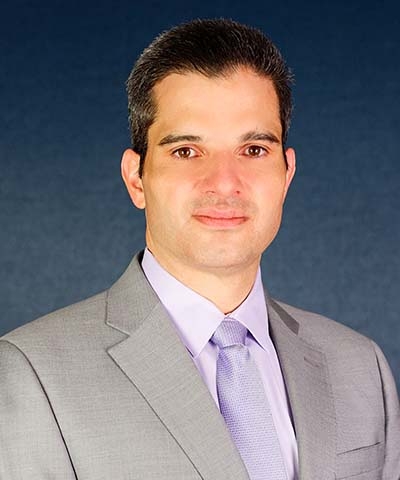 Thomas A. Abbate is an Equity Partner at DeCotiis. He joined DeCotiis as an Associate in 2002, became a Contract Partner in 2007, and an Equity Partner in 2013. He is a member of the litigation practice group.
An experienced litigator, Mr. Abbate's practice focuses on complex civil and commercial litigation on behalf of both businesses and government entities at the trial and appellate levels of the state and federal courts.
Mr. Abbate has represented businesses and led litigation teams in a diverse array of complex commercial litigation matters relating to health care licensing and regulation, health insurance, administrative and regulatory law, land use and real estate, insurance coverage and regulation, pharmaceutical antitrust, civil RICO, intellectual property, the Uniform Commercial Code, banking and finance, and all forms of commercial and business disputes. Representative matters include experience as the lead attorney in a multi-faceted and multi-forum "bet the company" litigation amongst a series of major health care institutions which resulted in the client successfully obtaining all of the approvals necessary to open a new acute care hospital, the first such approval granted by the State Department of Health in decades.
Mr. Abbate is experienced in all of the current protocols and tools governing the identification and processing of electronically-stored information (ESI) and, in this capacity, has a keen interest in managing complex client matters in a manner that leverages the latest technology assisted review methods to find legal cost efficiencies for the client.
Mr. Abbate also handles a variety of litigation matters on behalf of state and local government entities, and in this capacity also has experience navigating the complex balance between public entities, their insurance carriers and the public interest. He has particular experience and interest in litigation matters relating to constitutional law, First Amendment and civil rights, public entity governance, procurement and public records access, regulatory law, prerogative writ challenges to governmental authority, labor and employment litigation, construction litigation, law enforcement liability, environmental litigation, legal ethics, public officials' ethics and conflict of interest law, education law and insurance coverage.
Representative public entity matters include a complex environmental litigation arising under the federal Resource Conservation and Recovery Act, Mr. Abbate successfully brought to a conclusion, on summary judgment before the federal district court, a suit of first impression and of national import that was brought against a state transportation agency. Plaintiffs sought to advance a novel claim of liability premised upon an interpretation of federal law which would have potentially exposed the State to tens of millions of dollars in future environmental compliance costs. The federal court found that the claims had no merit, and dismissed the case.
Mr. Abbate is also an experienced appellate litigator and his practice has a particular emphasis on preparing and arguing appeals on behalf of the firm's institutional and public entity clients. He has appeared in the appellate courts dozens of times, and, indeed, serves as an Adjunct Professor of Law at Seton Hall University Law School of Law, where he teaches Appellate Advocacy to second year law students. Representative cases include:
Representative Cases:
H.C. Equities v. County of Union, 247 N.J. 366 (2021) (finding that commercial landlord's business tort claims against government entity were properly dismissed for failure to file a notice of claim within 90 days of accrual of cause of action and that a series of demand letters did not meet the notice requirement under the Tort Claims Act).
Luskey v. Carteret Board of Education, 459 N.J. Super. 150 (App. Div.), certif. denied 239 N.J. 489 (2019) (affirming the dismissal of a school district employee's complaint seeking to set aside an arbitration award granting his discharge on jurisdictional grounds, and holding that a contractual promise to grant statutory tenure required any subsequent revocation proceeding to be brought before an arbitrator appointed by the Commissioner of Education, rather than the Public Employment Relations Commission).
I/M/O Certificate of Need for HUMC North Hospital, 2012 WL 6012808 (App. Div. 2012) (rejecting, in its entirety, legal challenges brought by business competitors to a certificate of need granted to HackensackUMC at Pascack Valley Hospital to open a 128-bed acute care hospital, the first such approval for a new hospital in many years).
Ciesla v. Department of Health & Senior Services, 429 N.J. Super. 127 (App. Div. 2012) (holding that draft evaluation reports prepared by Department of Health staff evaluating the certificate of need application of HackensackUMC at Pascack Valley Hospital are unqualifiedly protected by the deliberative process privilege).
Borough of Sayreville v. 35 Club, LLC, 208 N.J. 491 (2012) (holding that the First Amendment is not violated by a New Jersey municipality's identification of reasonable alternative sites, located in the State of New York, within which an unlawful sexually-oriented business might relocate if ordered to cease operation).
I/M/O Xanadu Project at the Meadowlands Complex, 415 N.J. Super. 179 (App. Div.), certif. denied, 205 N.J. 96 (2010) (holding that a private redevelopment project on property ground leased from a state agency is within the regulatory eligibility criteria for special State-issued liquor licenses).
Andros v. Gross, 2005 WL 350058 (D.N.J. 2005), aff'd, 294 Fed.Appx. 731 (3d Cir. 2008), cert. denied, 556 U.S. 1207 (2009) (affirming the grant of summary judgment to law enforcement officers, in a civil rights/malicious prosecution action, on grounds of absolute and qualified immunity after dismissal of a homicide indictment against an individual who had been charged with the murder of his estranged wife who had, in reality, passed away due to natural causes).
Mr. Abbate received a B.A. in Music with honors from the Frost School of Music at the University of Miami in 1999. He received his J.D. from the Fordham University School of Law in 2002, where he was on the staff of the Fordham Urban Law Journal and served as a Legal Writing Teaching Assistant. Mr. Abbate is a New Jersey native.
As an avocational musician and devotee of the performing arts, Mr. Abbate maintains an active performance schedule, including with the New Jersey Wind Symphony, where he also serves on the Board of Trustees, and as Principal Trombone with the Ridgewood Symphony Orchestra.
Fordham University School of Law, New York, New York

J.D. – 2002
Honors: Legal Writing Teaching Assistant
Law Journal: Fordham Urban Law Journal, Staff

Frost School of Music at the University of Miami, Coral Gables, Florida

B.A. – 1999
Honors: With Honors
Major: Music
New Jersey, 2002
U.S. District Court District of New Jersey, 2002
New York, 2003
U.S. Court of Appeals 3rd Circuit, 2007
U.S. Supreme Court, 2009
Civil and Commercial Litigation
I/M/O Certificate of Need for HUMC North Hospital, Docket No. A-3155-11T1 (App. Div.), 2012
Ciesla v. Department of Health & Senior Services, N.J. Super (App. Div.), 2012
Borough of Sayreville v. 35 Club, LLC, 208 N.J. 491, 2012
I/M/O Xanadu Project at the Meadowlands Complex, 415 N.J. Super. 179 (App. Div.), certif. denied, 205 N.J. 96, 2010
In re Zisa, 385 N.J. Super. 188 (App. Div.), 2006
Professional Associations
Adjunct Professor of Law, Seton Hall University School of Law