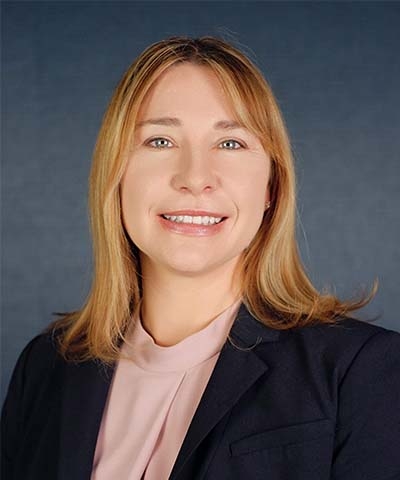 Alice M. Bergen is a Partner at DeCotiis. She joined DeCotiis in 2004 and became a Partner in 2015. She is a member of our Litigation Practice Group.
Ms. Bergen is an experienced civil litigator who represents clients in the State and Federal Courts of New Jersey and New York. She has represented a broad range of clients, including governmental entities and individuals, in matters involving contract and lease disputes, claims for breach of fiduciary duties and other torts, insurance defense, insurance coverage, land use challenges, employment issues and civil rights. Ms. Bergen has also been involved in White Collar and Corporate Investigations, as well as having second-chaired a federal embezzlement trial of a former union official.
Ms. Bergen is a 1999 cum laude graduate of Siena College, where she received her B.A. in Political Science. She was awarded her J.D. from St. John's University School of Law in 2002. Ms. Bergen was a student law clerk to the Honorable Patrick J. McGrath.
Representative Cases:
MasTec Renewables Construction Co., Inc., v. Mercer County Improvement Authority, et al., 2020 WL 579008 (App. Div., Feb. 6, 2020) (involved in all aspects of representation of a county improvement authority in litigation with a large solar contractor concerning the construction of an 8.3 megawatt solar facility, including the drafting of successful trial and appellate court briefs resulting in a precedential and published decision);
Christopher Luskey v. Carteret Board of Education, 459 N.J. Super. 150 (App. Div.), certif. den. 2019 WL 5057299 (2019) (drafted successful appellate briefs in the Appellate Division and the Supreme Court of New Jersey involving a tenured custodian's challenge of a Board of Education's decision to bring tenure charges pursuant to the Department of Education's arbitration process rather than through PERC arbitration, resulting in a precedential and published decision);
Aetna Life Insurance Company v. Appalachian Asset Management Corp., et al. (Supreme Court of New York Commercial Division, New York County, Index No.: 103913/10) (involved in obtaining a favorable settlement for a former director and officer of Lehman Brothers in a case asserting tort claims for alleged actions prior to Lehman Brothers' bankruptcy).
United States v. Dressel, et al., Criminal No.: 12-702 (WJM) (Second-chaired white-collar criminal trial involving federal embezzlement charges through a successful motion to set aside the verdict resulting in acquittal of all charges for a labor official);
Ms. Bergen was also involved in the successful appeal of the award of a large scale redevelopment project in a bid protest and related-challenges commenced by losing bidders. In re Protest of Hartz Mountain Indus., Inc., 2006 WL 2371348 (N.J. Super. Ct. App. Div. Aug. 17, 2006). Ms. Bergen was involved with related appeals which resulted in two noteworthy published opinions: In re Proposed Xanadu Redevelopment Project, 402 N.J. Super. 607 (App. Div. 2008); In re Stream Encroachment Permit, 402 N.J. Super. 587 (App. Div. 2008).
St. John's University School of Law, Jamaica, New York
Siena College, Loudonville, New York

B.A. - 1999
Honors: cum laude
Major: Political Science
Major: Philosophy
New Jersey, 2003
New York, 2003
U.S. District Court District of New Jersey, 2007
U.S. Court of Appeals 3rd Circuit, 2007
U.S. Court of Appeals District of Columbia Circuit, 2008
Aetna Life Insurance Company v. Appalachian Asset Management Corp., et al. (Supreme Court of New York Commercial Division, New York County, Index No.: 103913/10)
In re Protest of Hartz Mountain Indus., Inc., 2006 WL 2371348 (N.J. Super. Ct. App. Div.), 2006
In re Proposed Xanadu Redevelopment Project, 402 N.J. Super. 607 (App. Div.), 2008
In re Stream Encroachment Permit, 402 N.J. Super. 587, 955 A.2d 964 (App. Div.), 2008
Super Lawyers' Rising Star List for New Jersey 2014, 2015 and 2016 for Civil Litigation Defense
Selected to be Included in (201) Magazine's Top Lawyers in Bergen County in 2017
Selected as a Bergen County Top Lawyer by Bergen Magazine in 2018 and 2019
Professional Associations
Appointed to the District Ethics Committee by the New Jersey Supreme Court in 2017
New Jersey State Bar Association
The Association of the Federal Bar of New Jersey